The Village at Breckenridge
The Village at Breckenridge is the premiere ski in/ski out location with tons of amenities. The Village is located at the base of Peak 9 and easy access to restaurants, shops, fitness area, pool and hot tub. This is a true resort destination with everything you need in one location.
Parking is extremely limited throughout the year and guests can have a maximum of 1 space. During the winter season parking space is available at $22 per day.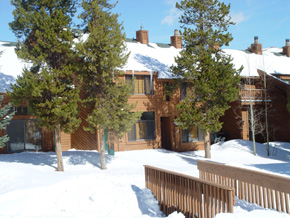 | | |
| --- | --- |
| Location | Village at Breck |
| Type | Ski in/Ski out |
| Bedrooms | 2 |
| Baths | 2 |
| Sleeps | 8 |
| Housekeeping | $110 |
| Parking | $17/day during ski season |
| | |
| --- | --- |
| 2017-2018 Season | Nightly Rates |

Summer
$200
May 1 – June 28
Summer Peak
$220
June 29 – July 11
Summer
$200
July 12 – Oct 31
Early Value
$275
Nov 1 – Dec 5
Pre-Holiday
$690
Dec 6 – Dec 20
Holiday
$850
Dec 21 – Jan 3
Value
$425
Jan 4 – Jan 31
Regular
$525
Feb 1 – Feb 14
President's
$550
Feb 15 – Feb 21
Value
$475
Feb 22 – Feb 28
Regular
$600
Mar 1 – Mar 27
Late Value
$230
Mar 28 – Apr 30
| | |
| --- | --- |
| Location | Village at Breck |
| Type | Ski in/Ski out |
| Bedrooms | 1 |
| Baths | 1 |
| Sleeps | 4 |
| Housekeeping | $110 |
| Parking | $17/day during ski season |
| | |
| --- | --- |
| 2017-2018 Season | Nightly Rates |

Summer
$155
May 1 – June 28
Summer Peak
$175
June 29 – July 11
Summer
$155
July 12 – Oct 31
Early Value
$160
Nov 1 – Dec 5
Pre-Holiday
$300
Dec 6 – Dec 20
Holiday
$600
Dec 21 – Jan 3
Value
$340
Jan 4 – Jan 31
Regular
$375
Feb 1 – Feb 14
President's
$390
Feb 15 – Feb 21
Value
$340
Feb 22 – Feb 28
Regular
$400
Mar 1 – Mar 27
Late Value
$250
Mar 28 – Apr 30
| | |
| --- | --- |
| Location | Village at Breck |
| Type | Ski in/Ski out |
| Bedrooms | 3 |
| Baths | 3 |
| Sleeps | 12 |
| Housekeeping | $120 |
| Parking | $17/day during ski season |
| | |
| --- | --- |
| 2017-2018 Season | Nightly Rates |

Summer
$300
May 1 – June 28
Summer Peak
$325
June 29 – July 11
Summer
$300
July 12 – Oct 31
Early Value
$540
Nov 1 – Dec 5
Pre-Holiday
$850
Dec 6 – Dec 20
Holiday
$1200
Dec 21 – Jan 3
Value
$600
Jan 4 – Jan 31
Regular
$725
Feb 1 – Feb 14
President's
$750
Feb 15 – Feb 21
Value
$650
Feb 22 – Feb 28
Regular
$750
Mar 1 – Mar 27
Late Value
$375
Mar 28 – Apr 30
| | |
| --- | --- |
| Location | Village at Breck |
| Type | Ski in/Ski out |
| Bedrooms | 2 |
| Baths | 2 |
| Sleeps | 6 |
| Housekeeping | $110 |
| Parking | $17/day during ski season |
| | |
| --- | --- |
| 2017-2018 Season | Nightly Rates |

Summer
$200
May 1 – June 25
Summer Peak
$220
June 29 – July 11
Summer
$200
July 12 – Oct 31
Early Value
$275
Nov 1 – Dec 5
Pre-Holiday
$690
Dec 6 – Dec 20
Holiday
$850
Dec 21 – Jan 3
Value
$425
Jan 4 – Jan 31
Regular
$525
Feb 1 – Feb 14
President's
$550
Feb 15 – Feb 21
Value
$475
Feb 22 – Feb 28
Regular
$600
Mar 1 – Mar 27
Late Value
$230
Mar 28 – Apr 30